SUNSHINE TO DOLLARS
CAPTURING THE FREE SOLAR ENERGY,
AND OTHER ENERGY AROUND YOU AND
YOUR HOUSE AT
LITTLE OR NO COST
Visual Documentation of Simple and FREE
Heating and Cooling Things I did That You Can Do Too.
by Steven E. Harris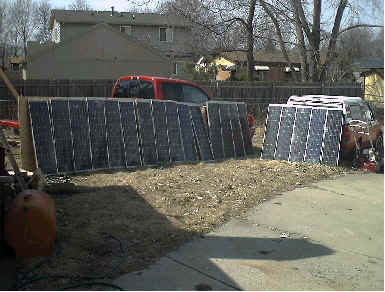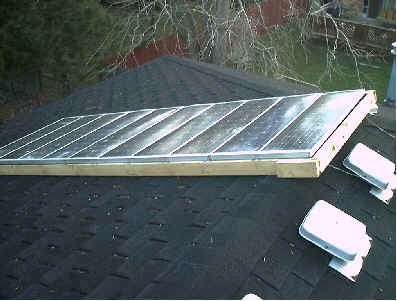 These are HALF of the solar panels I got FREE. I tell you where you can get them in YOUR CITY for FREE as well. This is NO joke, the panels are slightly degraded but work fine. The 10 panels in the right photo are dumping over 35+ amps at 12 volts in October Michigan Sunshine. These panels are in EVERY STATE and major COUNTRY and YOU CAN get them most of the time just for asking. This is a photo of the panels when I got them and a photo of the panels assembled on my roof and providing FREE electricity. I run the lights in my basement on the panels and in the summer time I power fans with the panels. Sometimes I don't even use a battery. My guys just called me, I have to go pick up another 20+ panels from them.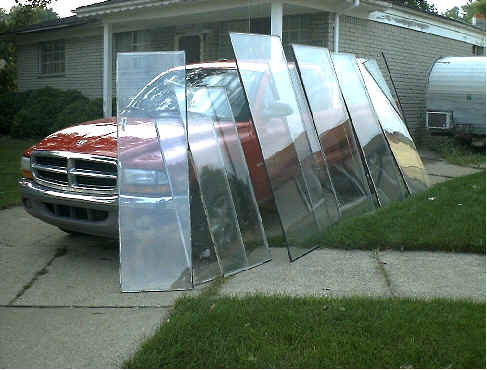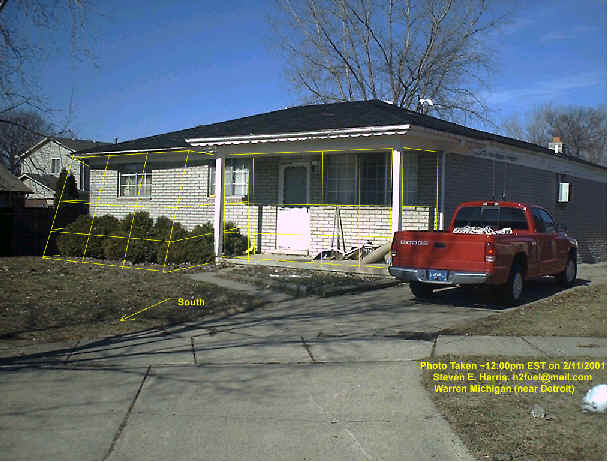 Hey, Photovoltaic panels are NOT the only type of solar energy, personally I like solar heating MUCH better, its just glass, cardboard and insulation, or just glass and cardboard. I show YOU how to get FREE GLASS, you can do this in EVERY CITY in the USA and around the world.. I have enough FREE glass that I had to stop taking it, I can COVER MY ENTIRE ROOF with glass if I wanted to. This is FREE, double wall, insulated safety glass. I use this to make solar ovens and to make solar hot air heaters and hot water heaters. In Michigan, on January 1st, 2002, it is 25F (-4C) outside and in my simple solar heater it is 125F (50C). I show you how to do this, how to make heaters and how I am making a little solar greenhouse out of my front porch that heats most of my house in the winter time. I tell you how to get it, then what to do with it. Almost every page has 1 or 2 photos on it, this is a HIGHLY visual photo documented book.
ALL photos in this Auction are ACTUAL PHOTOS from the Book.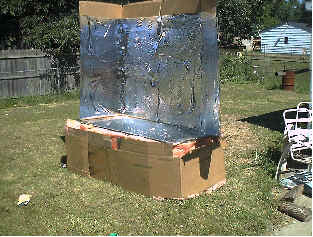 This entire solar oven cost me $9 to build. $5 for clamps, and $4 for the black paint. EVERYTHING else was free. This oven gets up to over 350F (175C) and it can bake OVER 20 loaves of bread at once and between 80-100 loaves a day in June Michigan Sunshine. This is NOT rocket science, this is simple enough for a middle school student to do. It gets hot, but it is not dangerous. This is just glass, cardboard, insulation and aluminum foil. I not only tell you but SHOW you how to do it. I don't spout theory about how it could be done, I DID IT, I took PHOTOS then I SHOW YOU.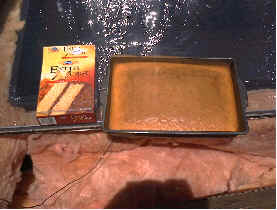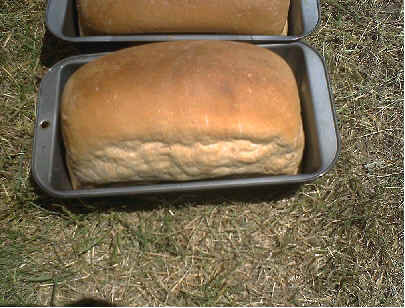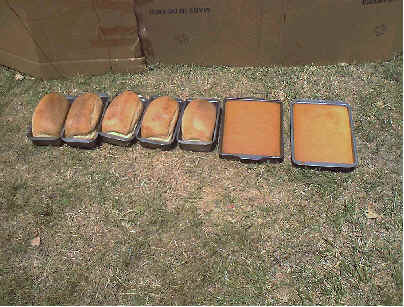 These are some of the things baked in the oven. Food from a solar oven tastes SO GOOD, and it does NOT heat the house up in the summertime and it is almost impossible to burn your food in a solar oven. Plus, its just plain fun, almost like magic. On the right is the FIRST CAKE I baked, then I baked bread and you can see that I baked 5 loaves and 2 cakes at the same time. It took 1.5 hours to bake all of these at once, oven temp was OVER 300F (150C) during baking, again, June Michigan Sunshine, this WAS NOT Arizona, and you CAN bake in the winter, just as long as it is sunny.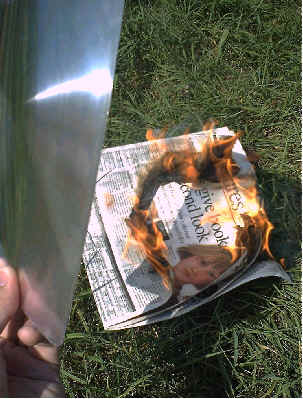 Here I show you how to get FREE or cheap FRESNEL lenses. These get to over 3000F (1650C) and you can melt pavement with it. I show you where to get FREE lenses that are over 3 feet by 3 feet. These have an incredible heat to them. This is but a few of the things I show you, there are many many more in the book, all photo documented and easy to do. I did these at MY house, you can do it at yours as well.

(as always, with all our products, your satisfaction is guaranteed, return for refund for any reason, any time)

NOT IN THE USA?
EASY INTERNATIONAL PAYMENT
F A S T INTERNATIONAL SHIPPING
Paypal is my favorite method, paypal ID is h2fuel@mail.com.
PayPal is now available in the following countries
Sign up at www.paypal.com
International Payments available through Ebay as well.
Ebay BILLPOINT credit card payments AND Electronic CHECKS are great as well,
last resort is check in the mail.
FAST AIR MAIL SHIPPING to you, LESS THAN 1 WEEK
International Shipping is just $10 US Dollars.
International
Shipping
Sent from the USA to YOU in less than a week with United States Global Priority Mail. OVER 50 Countries Including:
Canada, Mexico, Europe, Most of Asia, UK, Ireland, Australia, New Zealand, Singapore
International Shipping is just $10 US Dollars